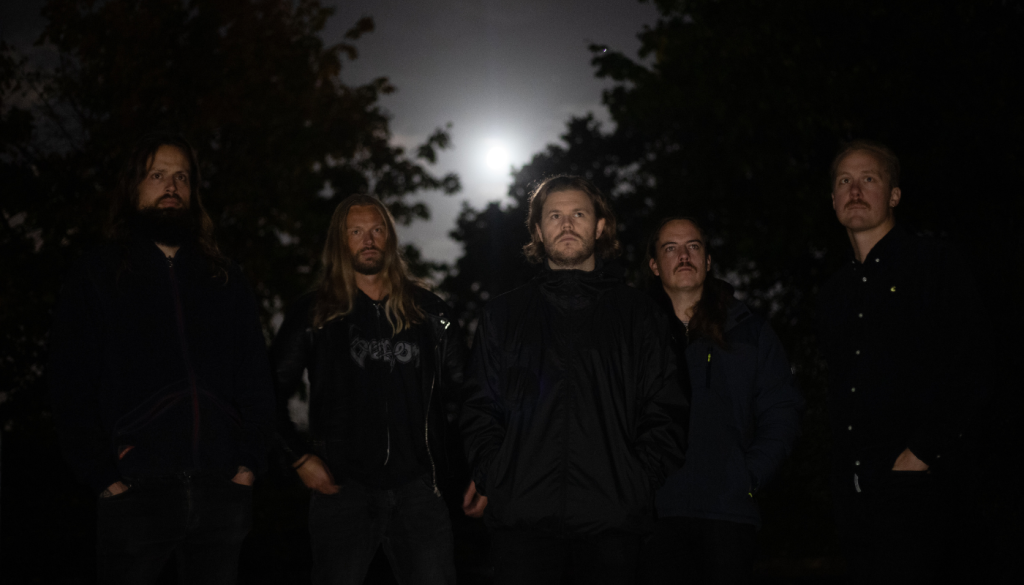 A sweet rotten smell of decay fills the air across the abandoned graveyard. The only thing that breaks the silence is the creaking sound of cracks coming from the the dry naked ground. Everywhere white crooked hands appear from the ground. Like withered flowers they move in the windless night. The corpses are yet again on the move!
The KADAVERMARCH has begun… Five people, all with roots in the Danish underground scene, are now together on stage. The beat is heavy. Guitars, drums, bass, and organ fill the soundscape. The two lead vocals are the only thing that penetrates the wall of sound.
From the graveyard to the outskirts of the galaxy, KADAVERMARCH rises with eternal echo, reverberation, and pounding guitars to the empty void beyond.
With roots well deep in the Danish underground scene in bands such as Illdisposed, Crocell, Czar, Helhorse, Tudsegammelt, or Total Heels – KADAVERMARCH met up for the first time in the summer of 2019 to wallow in their desire to play stoner, desert rock and heavy metal. Brought together by a mysterious mutual friend, who had a fuzzy vision for a band – that he shortly thereafter abandoned. Since then, the remaining five members have developed their sound to just the right blend of the different howling noises to satisfy their riff-needy souls – and their lost friend, who could not finish what he set out to do.
Aske Kristiansen
Vocals & Drums
Andreas Benthien
Guitar & Vocals